Having returned from a recent trip to San Francisco, Portfolio Manager Greg Kuhl discusses why the team is cautious on the local office market.
Key takeaways:
Office continues to be one of the weakest performing real estate sectors year-to-date.
While investor sentiment and valuations for US office REITs are weak, San Francisco stands to benefit from growing tech-related demand.
The team intends to take advantage of opportunities arising from discounted valuations when fundamentals improve.
The JH Explorer series follows our investment teams across the globe and shares their on-the-ground research at a country and company level.
An American Housing Survey conducted by the US Census Bureau – highlighted in early October by the San Francisco Chronicle – shows that 8% of the city's population plans to move away in the next year; the highest percentage for any US city (for comparison, Chicago and New York come in at 5% and 3% respectively).1 Employers are leaving too; office space availability in San Francisco has increased from 10% in 2020 to 37.5% today. This is an unprecedented move even for a market with a well-established 'boom bust' history.2 The city is frequently the subject of news articles with headlines like "Can San Francisco Save Itself from the Doom Loop?", highlighting the quality-of-life challenges associated with homelessness, drug use, mental illness, street crime, and the high cost of living in the area.­­3
Not all real estate is equal
I recently spent several days in and around San Francisco to gain perspective on this somewhat controversial property market. Commercial real estate consists of various property types, all with unique and sometimes uncorrelated supply and demand fundamentals – San Francisco exemplifies this. For many of the property types we visited, including apartments, industrial, and suburban retail, we would concisely characterise local fundamentals as varying between 'fine' and 'good'. Data centre fundamentals seem even stronger, bordering on 'great'. Like most of the rest of the US however, office is the outlier to the downside in San Francisco and the greater Bay Area.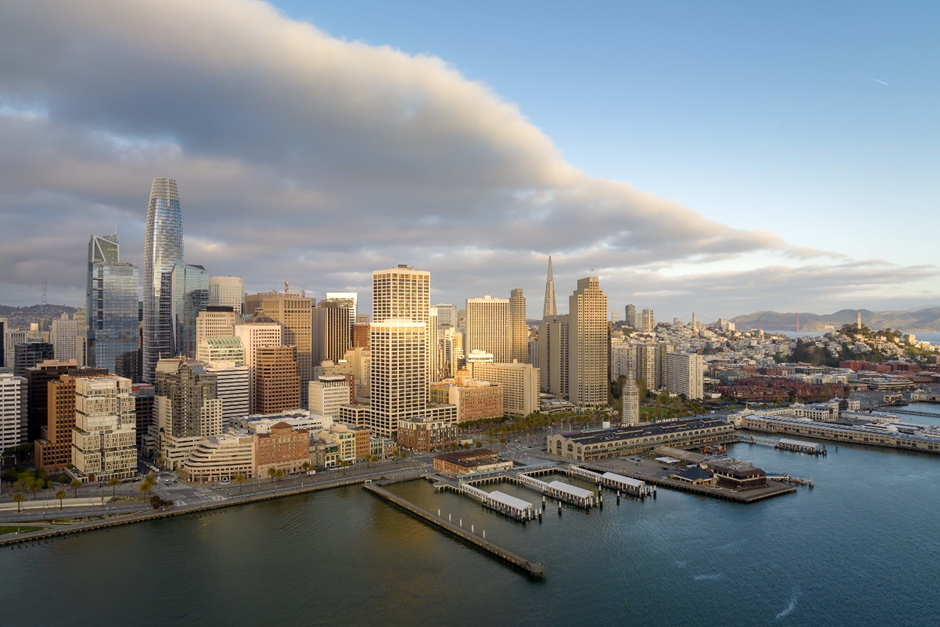 Potential opportunities in listed office space when fundamentals improve
Listed office real estate investment trusts (REITs) with heavy exposure to San Francisco including Kilroy Realty (KRC), Hudson Pacific Properties (HPP), and Paramount Group (PGRE) are down between 60-82% from their pre-COVID stock prices, and have materially underperformed listed office peers and the wider listed REITs sector.4
When sentiment is this bad and prices have declined this much, we need to ask ourselves: "Could there be an opportunity here?" After much consideration, our team remains cautious on this small corner of the listed REIT market for a few primary reasons:
While we acknowledge that the typically higher quality office space owned by listed REITs is significantly outperforming the San Francisco market, there is far too much vacancy and sublease space available for direct landlords to have pricing power anytime soon.
While there are some "green shoots" in terms of office demand with the recent emergence of new AI-related firms seeking office space, it is still very early days. All of the hope for demand growth in this office market currently seems to rest with AI. This optimism may prove to be well-founded but we would like to see more evidence.
There are some reasons to think the quality-of-life issues in San Francisco may start to improve, but only time will tell. The city needs to be a desirable place to live and work if it is going to recapture its historical share of tech-related demand.
As always, on the ground diligence is an important part of our team's investment process. We are well aware of the tech-related boom potential that exists in San Francisco, however, we will only attempt to take advantage of any discounted valuations once it is clearer that fundamentals are improving.
1 SFGATE: More People Want To Leave San Francisco Than Any Other City, Survey Shows; 15 October,2023.
2 CBRE San Francisco/Silicon Valley Office Market Outlook.
3 Wall Street Journal, August 13, 2023.
4 Bloomberg, 14 February 2020 to 13 October 2023, total returns in US dollar terms. References made to individual securities do not constitute a recommendation to buy, sell or hold any security, investment strategy or market sector, and should not be assumed to be profitable. Janus Henderson Investors, its affiliated advisor, or its employees, may have a position in the securities mentioned.
Important information
The views presented are as of the date published. They are for information purposes only and should not be used or construed as investment, legal or tax advice or as an offer to sell, a solicitation of an offer to buy, or a recommendation to buy, sell or hold any security, investment strategy or market sector. Nothing in this material shall be deemed to be a direct or indirect provision of investment management services specific to any client requirements. Opinions and examples are meant as an illustration of broader themes, are not an indication of trading intent, are subject to change and may not reflect the views of others in the organization. It is not intended to indicate or imply that any illustration/example mentioned is now or was ever held in any portfolio. No forecasts can be guaranteed and there is no guarantee that the information supplied is complete or timely, nor are there any warranties with regard to the results obtained from its use. Janus Henderson Investors is the source of data unless otherwise indicated, and has reasonable belief to rely on information and data sourced from third parties. Past performance does not predict future returns. Investing involves risk, including the possible loss of principal and fluctuation of value.

Not all products or services are available in all jurisdictions. This material or information contained in it may be restricted by law, may not be reproduced or referred to without express written permission or used in any jurisdiction or circumstance in which its use would be unlawful. Janus Henderson is not responsible for any unlawful distribution of this material to any third parties, in whole or in part. The contents of this material have not been approved or endorsed by any regulatory agency.

Janus Henderson Investors is the name under which investment products and services are provided by the entities identified in Europe by Janus Henderson Investors International Limited (reg no. 3594615), Janus Henderson Investors UK Limited (reg. no. 906355), Janus Henderson Fund Management UK Limited (reg. no. 2678531), (each registered in England and Wales at 201 Bishopsgate, London EC2M 3AE and regulated by the Financial Conduct Authority) and Janus Henderson Investors Europe S.A. (reg no. B22848 at 2 Rue de Bitbourg, L-1273, Luxembourg and regulated by the Commission de Surveillance du Secteur Financier).
Outside of the U.S.: For use only by institutional, professional, qualified and sophisticated investors, qualified distributors, wholesale investors and wholesale clients as defined by the applicable jurisdiction. Not for public viewing or distribution. Marketing Communication.
Janus Henderson and Knowledge Shared are trademarks of Janus Henderson Group plc or one of its subsidiaries. © Janus Henderson Group plc.
D10520